Campaign Goal: $500

17%

17%
Tekoso Media starts a Natural Disaster Relief fund sourced from the generous donations of its users
The recent natural disasters plaguing North and Central America have been devastating to millions of people and have uprooted societies, causing irreparable damage to communities, in many cases leading to the loss of innocent lives.
At Tekoso Media we see immense value in helping the community through outreach and financial support for those in need in order to help build a better society. That's why we decided to organize a donation drive to help victims of the recent hurricanes in Texas, Florida and the Caribbean islands, along with victims of the resulting floods and those of the recent 8.2 magnitude earthquake in Mexico.
Currently our focus is on providing clean water in areas where infrastructure has been permanently damaged. We are particularly impressed with Charity Water's use of BioSand Filters and hope to encourage their use in flooded areas.
Donations can be made securely through Paypal using the Donate button below and will show up as TEKOSO on your bank statement
How Much Should I Donate?
Any amount will help. Literally even a dollar can go a long way, it's up to you to decide an amount you are comfortable with.
Why Can't I Donate Something Else Besides Money?
The organizations that handle relief efforts in the field go through a rigorous process to weed out supplies they can't use and, surprisingly, most things people donate are unusable. This is usually due to poor packing or too many items, and the result is the supplies typically go to waste. That is, in fact, why these organizations exist, to handle the hard work of finding a supply of something crucial an area affected by the disaster desperately needs. To get a basic understanding, check out 10 Worst Things To Donate at HowStuffWorks.com
Where Is The Money Going?
The donations we receive will be going towards organizing relief efforts through a number of organizations dedicated to these causes depending on the location of the climate disaster. We also will work on building the campaign further through outreach and advertising. Whenever we send the donations, we will update our Natural Disaster Relief page with the amount donated and the organization to which the the donation was sent.
What is the benefit of donating to you instead of directly to the charities?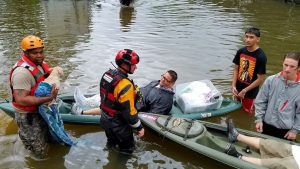 Of course you can donate directly to the charities, and we listed them below with links to their websites. However, there are more actions to take such as contacting the charities and reviewing their plans for helping the victims, reviewing action they are already engaged in, and making sure we make the most impact on the community. This is more preferred rather than donating to random causes, and most donors don't have time to do the research that we are doing.
I Am A Charitable Organization, How Can I Help?
If you work with a charitable organization, please get in touch with us at ndr@tekoso.com with the name and website of your organization along with your name and phone number so we can discuss how you operate.
Please note that while we are open to working with new organizations, we are currently only working with official non-profits, including those which show up on the American Institute of Philanthropy's website CharityWatch.org — we feel that the AIP has done an excellent job at rating charities. We will not be donating to any Go Fund Me or Patreon campaigns due to the high rate of scams we've seen in the past few years. An exception would only be made if we can verify the details of the campaign and thoroughly document how the money is planned on being used.
Potential Charities
What follows is a short list of organizations we hope to work with in the near future:
Help Us Spread The Word
We are committed to helping those who are truly in need and hope to make a positive impact on the world through crowd sourcing charity funding. That's why we need your help to spread the word and make our Natural Disaster Relief campaign a success!
Use the share buttons below to share this page to your Facebook, Twitter, email or other social media and remember, any amount is accepted and could mean the difference between life or death to someone in need during the aftermath of some of the worst natural disasters the world has ever seen. Let's help these people rebuild!
Please remember that donations can be made securely through Paypal using the Donate button below and will show up as TEKOSO on your bank statement